videos
Band Baajaa Bride with Sabyasachi Season 7: Register Now
It's every girl's dream to make her wedding day the most memorable day of her life. Band Baajaa Bride with Sabyasachi Season 7 entries are now open, register here.
Season 6
MEET THE ANCHORS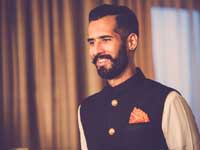 The tall and handsome Bharat Arora started predominantly as a fashion model in Delhi and walked the ramp for some of the renowned designers, and was also the official model for Lakme Fashion Week Spring Summer'10 (Mumbai). He then went on to do a lot of print and TV commercials for some brands like Orange, Motorola, Yamaha, and became a known face in the television industry with his appearances in serials such as Remix, Kahin Toh Hoga and Kayamath. On Band Baajaa Bride, he becomes the confidante of the brides and support and helps them smile through their spectacular journey as they finally walk the aisle.
Ambika Anand
joined
NDTV Good Times
in 2007 and since then she has travelled across most fashion capitals, right from New York to Milan to Paris to London where she interviewed some of the world's best fashion designers, which includes Tommy Hilfiger, John Galliano (DIOR), and Frida Giannini (GUCCI), to name a few. To make the most of Ambika's highly well-tuned, urbane and unique perspective on Lifestyle, we asked her to do a few travel, fashion and wedding shows.
Bride's Guide
Home Remedies: Papaya is great for beautiful skin. Eating papaya aids elimination of toxins! A ripe papaya is very effective when it comes to removal of dead skin. Just apply mashed papaya pulp on the face minus the eyes, keep it on for 15 minutes and rinse it off!
Cleanse your skin the natural way: a) Mix strawberries, oatmeal and milk cream and apply it to your face for 15 minutes.
b) Dab watermelon juice on your face to reduce wrinkles.
c) For a natural bleached look, apply cucumber juice on your face.
Face Packs: Mix some besan, egg yolk and milk and apply it on your skin if you would like to avoid wrinkles.
Make sure as a bride you are not suffering from bad breath. You should brush, floss and use a mouthwash twice a day. If the problem persists, see a dentist.
Meet your dentist: If your teeth need cleaning or you are worried about the shape of your teeth, get an appointment with your dentist months before your wedding.
If it's your wedding today, remember to eat well, throw your mobile phone away, don't use social media for last minute invites, smile and be charming. Have a great time!

Make Up: Someone once told me: always dress well; you never know whom you might meet! It's not just about your clothes. It's also about your make up. Make sure you carry the basics in your bag: Kajal and Mascara have the power to make your eyes look alive and vibrant. Be patient and find a lip gloss or a bright lipstick (from the family of fucsia/red/coral/orange) that will add instant glamour to your face. Last but not the least, a blush to add color and definition! In case you have pores or scars then don't wear a blush with iridescent particles, they will highlight your flaws.
Workout: If you want to change your body or lose some weight before your wedding, give yourself time, 6 months to a year! Figure out how much you want to lose and work on the loss in a targeted manner. About 70-80% of losing weight is credited to 'what you eat' and the balance is about the work out. Losing weight entails a lot of discipline so be strong as you take the plunge to Destination Fit!
Hair Care: Pre-wedding hair care is a lot about getting your fitness in order! Figure out the problem and find a hair doctor who can find a solution. Try hair spas and home care packs, a popular one is a mixture of eggs, yogurt, lemon juice and a dash of coffee! If you feel your mane needs serious work, you could visit a hair spa and pamper your scalp with protein rich hair pack, oils, shampoos and hair conditioners.
What to pack for your honeymoon: Denim on denim, crop top, a mini skirt with a peplum top, graphic or tropical prints – anything that looks good and is equally comfortable. Also you don't need to pack in for all the days. You just might want to shop!
Quick fixes: A bride can't be seen with chipped nail paint! Keep a kit handy with nail file, nail paint remover and nail polish. If your hair is oily but there is no time for a wash and blow dry, panic not. Get yourself a Dry Shampoo, it soaks up the oil, gives a fresh look and saves time! Someone dropped food or wine on your outfit? Panic not, just clean the stain with soda water and you're good to go!
------- Advertisement -------
Mentor Sabyasachi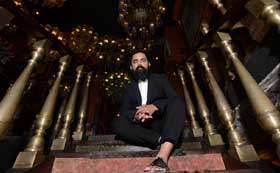 Sabyasachi Mukherjee is the design genius who with a single touch can transform the girl next door into a vintage diva. His designs are all about a classic sensuality. The Sabyasachi bridal charm is a cut above the rest which makes him a hit with the critics and classes alike! Lending his expertise and name to this season of the show, Band Baajaa Bride with Sabyasachi, will see brides being created like never before!
ABOUT THE SHOW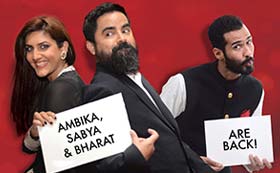 Get the drums rolling and the dhols playing, it's that time of the year when you wished you could get married!! Not just anywhere but on Band Baajaa Bride!! It's time for Band Baajaa Bride Season 6!! And we are leaving no stone unturned.
65 Makeovers. 5 blockbuster seasons. 1 sensational show on makeovers for everything, including fate.
We created stunning brides in the past and for the first time in the last season, we gave 13 Jodis their fairytale moment. And this year, we are set to add 'happy couples' to the Band Baajaa Bride family.
Band Baajaa Bride Season 6, will continue the journey by fulfilling 13 bride's dreams with ace fashion designer Sabyasachi Mukherjee playing the mentor and designing some stunning attires, going sourcing across the length and breadth of the country and putting together interesting textiles to create exquisite garments for the brides.
This season, we also bring back our style diva, Ambika Anand who not only will be besides our brides during their makeover journey, but will also surprise them at interesting junctures of the show! Joining her is every bride's best friend, tall and handsome, Bharat Arora at his wittiest best!
With interesting stories, and even more interesting makeovers, Band Baajaa Bride Season 6 has moments of blessings, gorgeous jewelry, designer outfits and accessories and the dream lehenga for every bride.
So as they say, "Love fills the moment and the moment begins eternity", we at Band Baajaa Bride, are all set to give 13 bride's stories and their fairytale wedding that moment of eternity!